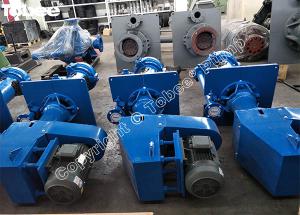 Price:
5 000

$

  Wholesale price:  5 000

$

Min. amount:
1 1
Tobee® 200SV-SP Vertical Slurry Pump is designed for applications requiring greater reliability and durability than conventional vertical process pumps can offer. Fully elastomer lined or hard metal fitted. No submerged bearings or packing. High capacity double suction design. Optional recessed impeller and suction agitator available.
Design Features:

Less wear, less corrosion
Wetted components are available in a wide range of alloys and elastomers. Tobee selects the optimum combination of materials for maximum resistance to wear in virtually any industrial application, including those demanding both abrasion and corrosion resistance, and where larger particles or high density slurries are encountered.
• Abrasion resistant Ultrachrome® A05 alloy.
• Abrasion/corrosion-resistant Hyperchrome® A49 alloy.
• Corrosion-resistant stainless steels.
• Natural and synthetic elastomers.
No submerged bearing failures
The robust cantilever shaft avoids the need for lower submerged bearings which are often the source of premature bearing failure.
• Heavy duty roller bearings, above mounting plate.
• No submerged bearings.
HEBEI TOBEE PUMP CO.,LIMITED
Email: Operation1@tobeepump.com
| Skype: Tobee.Pump | Mob: +86-18032034573
www.tobeepump.com   www.slurrypumpsupply.com
www.tobee.cc   www.hydroman.cn   www.tobee.store