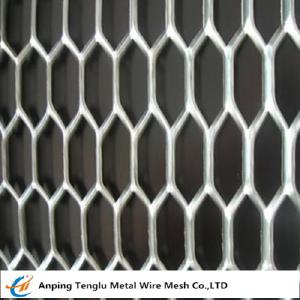 Price:

negotiated

  Wholesale price: 

negotiated

Min. amount:
10 piece
Anping Tenglu Metal Wire Mesh Co.,LTD
Hexagonal Expanded Metal Mesh
•Product Description:
Hexagonal expanded metal features hexagonally shaped holes, and as such has larger open areas, usually around 80%. In fact, this expanded metal has the highest open area percentage among expanded metals, but maintains a high strength-to-weight ratio-the hexagonal pattern offers higher strength than the diamond pattern.
Holes are arranged in a staggered pattern so that the midsection of one hole is in line with the top edge of the adjacent hole. This material is often used in architectural load-bearing applications, including facades, roofs, fences, steps, walkways, placards, and many other applications.
The common type of hexagonal hole expanded metal mesh is raised type. The expanded metal is directly slit and stretched by punching machines without any other processing. The strand width and bond come into an angle with the plate surface. This kind of structure increase the strength and hardness of expanded metal, it also brings better anti-slipping and reinforcing performance.
•Materials:
Steel cold-rolled, hot dipped zinc plated, galvanized
Carbon steel sheets can be electro galvanized or zinc plated
Stainless steel:201,202, 304, 316, 321, 410, 430
Aluminium:1050, 1060, 1100, 5052, 5056
Copper, brass, plastics
•Feature:
Expanded metal sheets has the features of high toughness, impact resistance, beautiful appearance, sturdy construction and other characteristics.
•Applications:
Facades, roofs, fences, blinds, steps, walkways, soundproofing, filters, placards, etc.
•Packaging :Wooden box
•Our Service:
Materials certification
Customized size