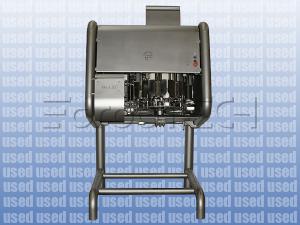 Price:

negotiated

  Wholesale price: 

negotiated

Min. amount:
1 250x120x120
Company:
DROBTECH
Region:

Poland

Łódź

Contact person:
Chamera Igor
Phone:
Foodmate 6.50 Chicken Thigh Drumstick Deboner achieves maximum yield and flexibility. 
The machine can be loaded by one worker and has an automatic unloading device for the deboned thigh or drumstick meat and bones. 
It requires minimal maintenance and is easy to clean. The Thigh Deboner works according to the ''diaphragm principle''.
Key Benefits:
• Allows for a maximum of 55/60 thighs or drums per minute
• Improves yield
• Reduces operarting and maintenance costs 
Remarks:
• The thigh should be cut anatomically, this means there must be a leg processor in the cut up      
   line or legs are bought with anatomically cut.
• Temperature of the product approx 4 °C
• Best deboning and yield result, when fresh products stay 1 night in the cooling.