The Pendant Of The Trident, Old Slavonic"
Offer type: sale
Published: 31.03.2015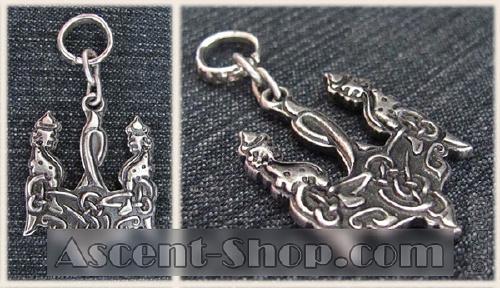 A gift of "Lace Underwear, Leather, natural, 50 cm"
The pendant is made in the form of a Trident, old Slavic talismanthat combines pagan Christian art and symbolism. Consists of two parts: the Trident and the ring. The productis made of high quality stainless steel.

Intertwined lines that form a complex lace curls, the rounded ends - it looked so Small coat of arms of Ukraine during the reign of Rurikovich.

All Rurik has chosen as its emblem is a Trident. However, he was constantly changing. During the reign of Svyatoslav Trident was reminded of the modern sign - it was such an abstract shape with rounded ends.

Vladimir in its Arsenal used as many as five different versions of the Trident. Modern Small arms of Ukraine is a copy Vladimirova Trident.

Zaslav Trident depicted with a cross in the middle, Yaroslav - the circle, the emblem of the Prince Mstislav was supplemented by up to three crosses.

Trident princes of Vladimir, Yaroslav and Mstislav had the image of the Prince of hats. Monomakh's cap was a symbol of power and inviolability of the power of the Prince. Decorated with fur and jewels, with a cross in the center, she was proud of everyone who took power. The above headpiece included in the list of princely regalia of Kyivan Rus.

The owner of this pendant is unlikely to be able to feel the fullness of princely power, but the Trident in the form of old Slavic symbol of power and prosperity is a thing which should be in possession of every Ukrainian.

Dimensions of pendant: 2,2x4,9 cm
Shipping throughout Ukraine by transport the "New Mail"
Look, choose, order :)
ascent- shop .com