System drawers Firmax from BLS wholesale and retail
Offer type: sale
Published: 16.01.2015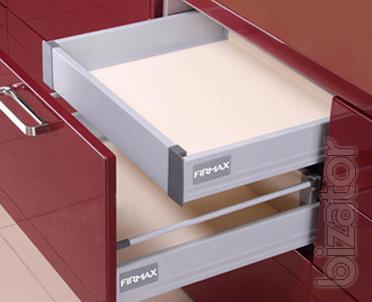 | | |
| --- | --- |
| Seller: | Pryazhnikov Vasilij |
| Phones: | Write a message |
| Address: | Russian Federation, Moskovskaya Oblast', Moscow |
| | |
Firmax Alpha: the guides are flush-mounted with built-in door closer, dynamic load - 40 kg gear synchronization mechanism. Full extension, smooth running, easy Assembly and quick installation.
Firmax Newline: rails full extension with damping mechanism of reverse to compensate for noise and latch for a smooth closing. The synchronization mechanism to improve lateral stabilization mailbox and noise reduction. Designed for 60000 cycles of opening/closing at dynamic load 35 kg
Firmax Ten: rails full extension, dynamic load up to 45 kg Dual synchronization mechanism Dual-Synchro providing high lateral stability and quiet drawer slide. Door closers with longer stroke, convenient mechanism for fixing the box on the guides, easily dismantled.
The boxes are 4 types of trays for Cutlery and Italian led lights "FARO" from "FGV ".
All certificates, free delivery.