Offer type: sale
Published: 28.02.2015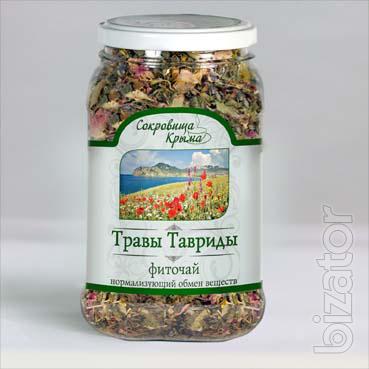 Herbal teas TM "Treasures of the Crimea".
Herbal tea Herb Tauris" 90, Ingredients:
herbal tea Herb Tauris" includes fruit trees, herb Echinacea, skullcap, St. John's wort, Catnip, thyme, mint, sage, hyssop, lafonta, rosemary, goldenrod, immortelle and marigold flowers, Sophora, chamomile, rose.
Herbal tea Herb Tauris" quenches thirst, harmonizes the mind, improves digestion, helps to get rid of excess weight and reduce cholesterol in the blood. It also normalizes digestion and metabolism.
Indications for use:
herbal tea Herb Tauris" has choleretic, diuretic, immune-stimulating action. Regulates metabolism, moderately lowers blood pressure. Used with cholecystitis, hepatitis, gastritis, colitis, diabetes, bronchitis and kidney stones, as a preventive tool.

How to use:
pour 1-2 tablespoons of herbal tea Herb Tauris" 200 ml boiling water, leave for 3-5 minutes. Ideal to insist in a thermos 30-60 minutes.
Contraindications:
individual intolerance to the components of herbal tea Herb Tauris".
Shelf life:
24 months.
Shipping:
On Ukraine: through the transport company "New Mail" due to customer (average from 20 UAH), there is an option with cod.
Self: warehouse-office, Donetsk, etc-so Mayakovsky, 7.
Payment:
The transfer of funds on the card of PrivatBank.
Cash when you purchase at.
When you order in the amount of UAH 800 20% discount.