Offer type: sale
Published: 28.02.2015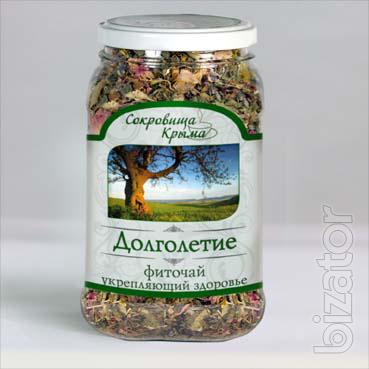 Herbal teas TM "Treasures of the Crimea".
Phytotea "Longevity" 90 g
.
Ingredients:
herb, skullcap, zeleznice, St. John's wort, marjoram, lemon balm, Catnip, thyme, mint, hyssop, immortelle flowers and roses.
This herbal tea quenches thirst, uplifting and mobilizes the body's defenses.
Indications for use:
herbal tea "Longevity" has a soothing effect, reduces blood pressure, relieves shortness of breath, dizziness.
Used in bronchitis, cholecystitis, hepatitis, gastritis and atony of the stomach, as a preventive tool.
How to use:
pour 1-2 tablespoons of herbal tea "Longevity" 200 ml boiling water, leave for 3-5 minutes. Ideal to insist in a thermos 30-60 minutes.
Contraindications:
individual intolerance to the components of herbal tea.

Shelf life:
24 months.
Shipping:
On Ukraine: through the transport company "New Mail" due to customer (average from 20 UAH), there is an option with cod.
Self: warehouse-office, Donetsk, etc-so Mayakovsky, 7.
Payment:
The transfer of funds on the card of PrivatBank.
Cash when you purchase at.
When you order in the amount of UAH 800 20% discount.