Stirrer wine IMS-65, VMS-125
Offer type: sale
Published: 03.02.2022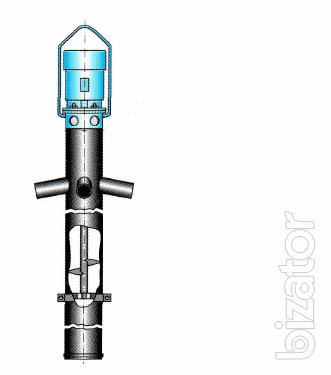 Wine mixer designed to stir the wort and wine stock with the pulp in the open tanks (vats) with a capacity of 5 - 25 m3. The mixer can also be used for mixing plant materials in liquids in order to obtain extracts used in the preparation of aromatized wines and for mixing with the beverage and blended wine with the addition of vacuum wort or syrups.

For wineries that produce red wines, PKF "Techno-T" are developed and successfully tested stirrer VMS-125. In the new mixer, compared to previously used, the enlarged diameter up to 250 mm and four pipe replaced the Windows open, which allowed not only to increase the supply of up to 125 m3, but also use it for mixing the pulp with crests. Reduce the frequency of rotation of the auger to 720.minutes, contributes to the quality of the wine stock by reducing the formation of sediment. This hydrodynamic mixing mode also facilitates the transition of phenolic substances from the solid parts of the pulp in the wine, which ultimately gives the wines their unique individual taste of tone.
Mount mixer - swivel suspension.
Changes in the design of mixers reduced time breakdown "hats" to full mixing wine stock with the pulp in the tank up to 25 m from 6-8 hours to 40 minutes. The quality of the wine stock is not affected.
Optional customer stirrer is completed instead skakovyh
mixing device lobed mixing
devices designed for the preparation of syrups, beverages, blended wines using vacuum-wort.
Stirrer supplied with one from models of the spraying device at the customer. Model the spray device is selected depending on sizes fermentation tanks and technological features production.
Name parameter
The IMS 65
VMS 125
Submission (on water, m3/h, not less
65
125
Installed capacity e/LW., kW
1,5
3
Frequency rotation of the working body, min 1, not more than
1420
710
Diameter the working body, mm, not less
170
250
Maximum the depth of the circulation pipes (under the umbrella), mm
1300
Overall dimensions, mm
width (diameter) height
200
2930
480
2275
Weight, kg
60
130
Cost (USD).USA)
2000
2800
Cost rubber stars (USD)
30
30
Time production (calendar days)
45
45
The rate is subject to receipt of the goods at the warehouse of the manufacturer. The cost for the entire party must enable 1 thousand dollars. on customs payments and separately size transport costs.