Crusher roller grebneotdeliteli brand IOP - 20
Offer type: sale
Published: 15.03.2021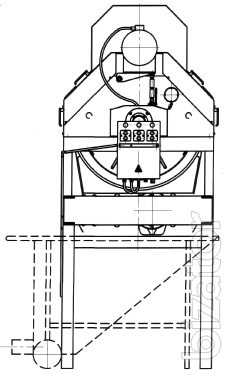 Designed for crushing grapes after preliminary separation of the ridges from bunches of grapes. Used in wineries and juice plants to complete production lines for the processing of grapes capacity 20 t/h
Is a unit consisting of two machines with independent drives - grebneotdeliteli and crusher. This versatile machine is designed for different processing steps depending on the grade of the processed grapes and type of final product - wine. Using a roll of grebneotdeliteli-can crusher to carry out the following operations:
Department of crests and crushing of grapes;
- separation of the ridges without crushing grapes;
- crushing grapes grapes without separation of the ridges.
When the execution of a process operation of the crushing of the grapes, without separation of the ridges individual unit - roller crusher is installed over the hopper tecates or press.
Design grebneotdeliteli consists of a perforated cylinder, made of stainless steel, and stable shaft. When the grapes are coming in grenaudier, under the blows hit the shaft crests are separated from the berries and carried out the perforated cylinder and the berries fall through the perforations of the drum on rotating the rolls crusher.
Design crusher consists of 4 prerabotuva rolls, made of food grade rubber. The crusher is equipped with devices for adjust mivakulova gap in the range of 3 to 8 mm, which allows the process of crushing grapes in a sparing mode depending on grade grapes, its physical parameters and to obtain a wort of high quality with the minimum mass fraction of solids.
When the use of IOP-20 decrease wort with crests, excluded enrichment wort substances, giving it a grassy flavor. Tasting evaluation of the wine obtained by fermentation of the wort during the processing of grapes separating ridges to crushing, 0.5 point higher than in the case of Department crests after the crushing of the berries.
Technical description
Performance of processed grapes, no less than, t/h
20,0
Shaft rotation frequency of grebneotdeliteli, min-1
280
Speed roll crusher, min-1
56
Installed capacity drives, kW:
grebneotdeliteli
4,0
crusher
2,2
Overall dimensions, mm
3180 × 1120 ×2530
Weight, not more, kg
1320
Set the resource to repair, h, not less
10000
Specified operating life, h
200
Service life, years, not less than
10