Oak barrel makes the wine, and we - do barrels
Offer type: sale
Published: 01.04.2015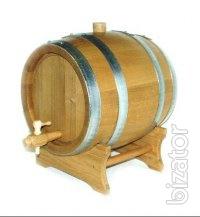 Production enterprise "BOCHAR manufactures oak barrels on the old technology. Oak deck is not sawed and split along the grain, without breaking and without damaging them. Due to this, the barrel has great strength and is protected from the penetration of bacteria into the fibers.
Made oak barrels for wine and brandy from split oak, tubs and tubs of pickles and honey. Wooden buckets, bath tubs, oblivnye device, supernice, oak glasses of beer, gang, tub and other Coopers products.
Send a barrel right in Your city.
Delivery to any city of Ukraine.
Send no pre-payment.
Full warranty on ALL products - 3 YEARS!!!