Sleeve for steam at high pressure
Offer type: sale
Published: 09.04.2015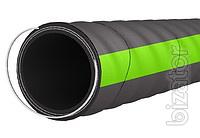 Hose for steam for high pressure
Temperature up to +143 °C.
Margin of safety 5:1
Internal the diameter of the hose: 25mm, 31.5 mm, 38mm, 50mm
Working pressure - 3 ATM.
Design sleeveless: pukawa consist of inner rubber layer, one or more layers of textile frame and outer rubber layer.
Application: Hoses are used to transport water saturated steam and hot industrial water. Industrial water - highly concentrated natural the aqueous solution of the various elements. For example: solutions of nitrates, sulfates, carbonate brines of alkali halides.