integrated line processing of distillery stillage filtrate
Offer type: sale
Published: 21.04.2019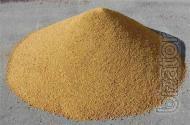 the line consists of a complete set of equipment for processing all of distillery stillage and get dry final product.
equipment division bards.
vacuum evaporation plant concentration , centrate concentrates and fed to the drying unit.
installing a dryer with a set of conveyors and mixers.
the performance of one line to 50000.0 kg bards per hour.
100% waste-free production.