Brochures and business cards the face of the company!
Offer type: services
Published: 26.09.2014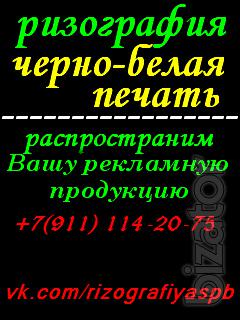 We print at low prices! Printing on coated paper from 70 grams to 170 grams, offset paper 80 grams, on cardboard 300 grams ( business cards, calendars, cards, pocket calendars ). Printed on the risograph ( black and white ) printing on colored and white paper formats A4,A5,A6,h,100x100 and other non-standard. Distribute printed materials in mailboxes in the residential districts, St. Petersburg . Provided the report.