The working summer protective suit L-1
Offer type: sale
Published: 17.08.2018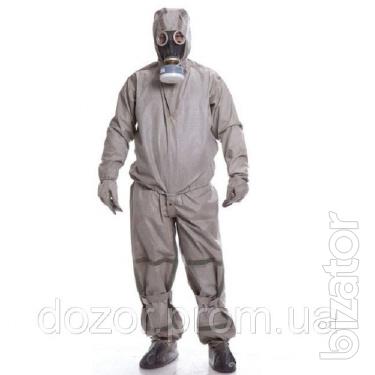 Features:

Outer material: TC. kalandrovoy
Silhouette: straight;
Season: demi-season;
Color: according to client's request;
Care: gentle wash at 30 degrees
Description:
Lightweight protective suit designed to protect the skin of the person, clothing and shoes, from the effects of solid, liquid, drip, aerosol chemical agents, suspensions, aerosols, harmful biological agents and radioactive dust. Used in areas infected with toxic and hazardous chemical substances in the chemical industry, in the performance of decontamination, decontamination and disinfection work. The suit is not insulating. Suit L-1 is used in conjunction with means of individual protection of respiratory organs. When infected, the suit is subjected to treatment. Can be used repeatedly. Kalandrovoy is made of fabric resistant to water, diluted acids and alkalis with concentration up to 20%. Tselnokrajnimi consists of trousers with stockings (Shoe covers), jacket with hood and three-fingered gloves. The jacket sleeves have cuffs, tight wrist. Taped seams special protective tape. Used in military, chemical, industrial and areas infected with toxic and emergency chemical hazardous substances, and also at carrying out of hydraulic engineering works in the temperature range from 36°C to -45°C. Colour – grey.
Our specialists will answer all Your questions!