Offer type: sale
Published: 19.07.2018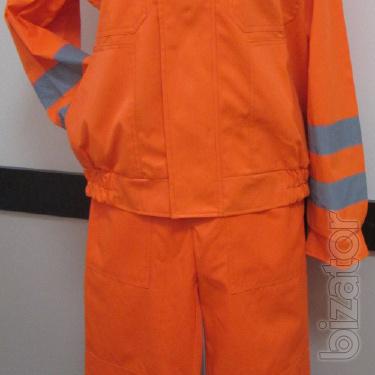 Features:

Outer material: TC."Twill";
Fabric composition: 100% cotton
Sizes: 44-62;
The type of fastener: zipper;
Silhouette: straight;
Season: demi-season;
Color: according to client's request;
Care: gentle wash at 30 degrees
Description:
Presents costume roadman corresponds to 1st class of signal high visibility clothing. Signal suits roadman provide a high level of visibility workers drivers and operators of various modes of transport at any time of day, and thereby significantly reduces the severity of collisions and trauma.

Roadman suit consists of a jacket and trousers. Jacket of a direct silhouette with the Central fastener with zipper, flap closed with Velcro. Fold-over collar. The tape is 50 mm wide, the jacket through the yoke on the back and chest, on the sleeves and on the trousers. Jacket has two breast and two side pockets. Pants banded waist, straight cut.with two large side pockets. Elbows and knees are strengthen. At the client's request print logos: embroidery, printing, etc.
Always glad to Your orders!