Offer type: sale
Published: 10.07.2018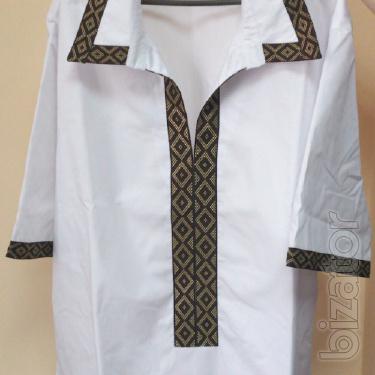 Features:

Outer material: TC."Shirt Holland"
Fabric composition: 50% cotton, 50% polyester.
Silhouette: straight;
Season: demi-season;
Color: according to client's request;
Care: gentle wash at 30 degrees
Description:
Embroidery men's white color short sleeve. As a decoration for the model selected ornaments in brown. Contrasting patterns adorn the cuffs on the sleeves, and also form the center of the sternum wide vertical strip that starts at the collar, with a symmetrical pattern on both sides. Puts shirt over his head. Bright embroidery will become a winning choice as outfit for a festive evening or like clothing for a simple walk with friends.
Call, always glad to Your orders!
Delivery:
Delivery is carried out in any suitable operator. On the territory of Ukraine the products delivered in the period up to 3 days.