Pants with jacket "Economy" of TK.Defensa T. blue
Offer type: sale
Published: 03.07.2018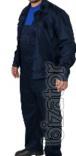 Pants with jacket "Economy" of TK.Defensa T. blue for protection against General production pollutions and mechanical effects.
Straight jacket with hidden button placket. Hem sewn stitched elastic waist. Shelf with detachable yoke. On the shelves – two chest pockets with flaps with Velcro fasteners. At the bottom of the shelves – two side slant patch pockets.Bib with side closure and buttoned straps on fastex. Front of jumpsuit with a detachable breast, on which is sewn a patch pocket with flap on a textile fastener. Zip button fly. On the front of the hat stitched two side patch pockets. Lower pockets, cuffs of the bib, stitched knee pads.
Waist backless dungarees inserted elastic.
Length is adjustable with an elastic band.
Main fabric: Defensa;
Density: 190 g/m2 or 210 g/m2;
Composition: 20% -cotton; 80% pH;
Manufacturer: China.
Color: dark blue.
Conforms to: GOST 27575-87
The goods are delivered throughout the territory of Ukraine within 3 days transport companies.