Offer type: sale
Published: 22.06.2018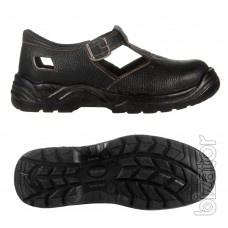 View: sandals.
Fixing method: injection molding.
Outsole material: polyurethane.
Gender: Unisex;
Color: according to client's request;
Description:
Sandals leather (yuft) on a polyurethane sole. Mount midsole is made by injection method.
Advantages:
light weight, high wear resistance;
lowest price at a sufficiently high consumer properties.
Polyurethane sole provides reliable protection from oils, gasoline, weak solutions of acids and alkalis, as well as from dirt.
"The nose" sandals double-layer reinforced thermoplastics can be installed metal toe cap, resistance to impact this significantly increases (200 joules).
Delivery is carried out in any suitable operator. On the territory of Ukraine the products delivered in the period up to 3 days.