Heidelberg SM 102-5P (year 1998)
Offer type: sell
Published: 04.05.2022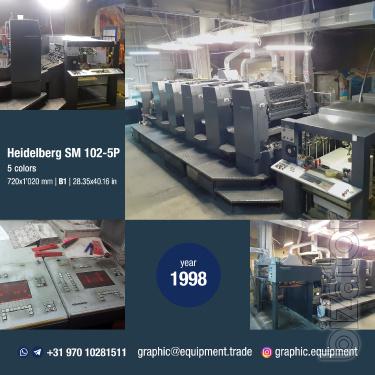 !! SALE !!
5-colors offset press HD Speedmaster 102 size B1 with perfector (5/0 or 1/4)


max. sheet size 720x1'020 mm (28.35x40.16 in)

materials 0.04-0.8 mm
max. speed 13'000 s/h


pallet feeder Heidelberg
Alcolor dampening with cooler Technotrans
CPC 1.04
CP Tronic
semiautomatic plate changes
perfector (5+0, 1+4)
powder spray Grafix
high pile delivery
IR-dryer in delivery


in Ukraine printing house, can be seen in production
payment direct to owner or EU dealer according to Invoice
available immediately
!! SALE !!


📲 +31 970 10281511 (WhatsApp, Telegram)
📧 graphic@equipment.trade


#HeidelbergSM102_5 #HeidelbergSM102 #Speedmaster102series #Heidelberg #Heidelberger #usedheidelberg #heidelbergpress #heidelbergprint #heidelbergprinter #heidelbergprintingpress #heidelbergequipment #heidelbergerdruckmaschinen #offsetdrukmasjien #offsetprinting #offsetprintingmachine #druckmaschine #maquinadeimpressao #maquinadeimpresion #machinedimpression #ofsetbaskımakinesi #macchinadastampaoffset #maszynadodrukuoffsetowego #ofsetovytiskovystroj #offsettiskarskistroj #μηχανήεκτύπωσηςόφσετ #masinadeimprimatoffset #usedheidelberg #printmachines #printingmachine #fivecolorprintingmachine
آلة طباعة أوفست دستگاه چاپ افست 膠印機 ऑफसेट प्रिंटिंग मशीन เครื่องพิมพ์ออฟเซต