Blockboard production (Poland)
Offer type: sale
Published: 27.02.2015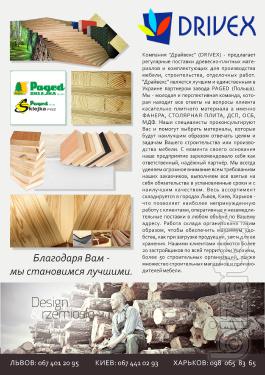 Our company offers coreboard production PAGED . These plates and other plates have PAGED format Hm, can be veneered all traditional veneers, available in thicknesses from 16 to 29mm.
Blockboard is a high quality product made from natural wood, designed for manufacturing: built-in cabinets, furniture, doors, wooden stairs, partitions, and other products.
Property joiner plate: light weight, high resistance to longitudinal - transverse warping. The structure of the joiner plate resembles (sandwich) in which between two sheets of veneer sheets pressed joiner's shield.
Blockboard has the highest strength among the sheet materials and the lowest formaldehyde content, which makes it an ideal material for those products where the important dimensional stability and environmental friendliness.
Wooden furniture is made to order from this furniture material and array differs from furniture made of chipboard. It is environmentally friendly, more durable and durable. For example, the shelves of the library, made from them, can withstand considerably higher load deflection than that of the ADI. Such plate is an ideal material for the manufacture of treads for various types of stairs.