Greek island cheese "Travolti Mitilini"
Offer type: sale
Published: 01.03.2015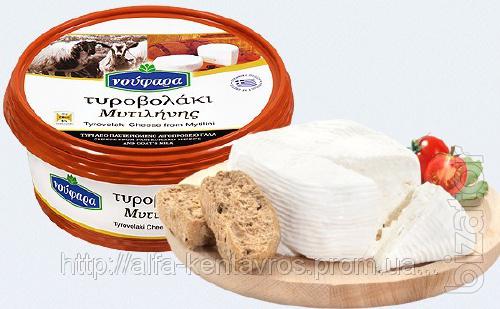 Cheese "Travolti" 500 grams, in brine.Despite some similarities in composition with Feta cheese, has differences in the formulation and production method. Cheese of the island of Mytilene.
"
Tyrovolaki Mytilene
" represents
white cheese
from a mixture of sheep's and goat's milk
. But despite the similarity in composition, "
Travolti Mytilini
" has major differences from "
Feta
". We present some of them: "
Feta Cheese
made from sheep's milk 70% and 30% goat's milk."
Travolti
contains goat's milk only from 15% to 20% .
Milk sheep
ranges from 80% to 85%,a fat content of from 45% to 48%. But important are the differences in the mode of production. For the production of
Feta
,the cheese mass is loaded into the mold, where it flows down. For
Travolti
the cheese mass
placed under the yoke(cargo),what would be the best possible way to clean the cheese from the whey. This is necessary in order to make cheese
slightly sour taste
that has as
Travolti
and
Feta.
Another difference is the time of curing aging.If
Feta
can be upotrebena two months later,after production,
cheese travolti
should Mature and be aged for at least three months.