The pallet is non-standard, 1200x1000
Offer type: sale
Published: 01.04.2015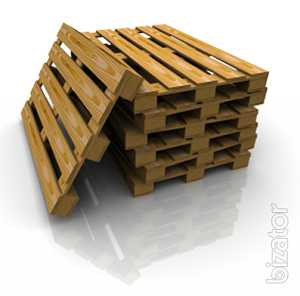 Sell, new pallet 1200 x 1000 mm.
The price of 55 USD.
Maximum permissible load capacity of the pallet is equal to 2000 kg
Standard dimensions 1200 x 800 mm, 6 boards having flooring HH.
The price of 55 USD.
Tel. +38 044 384 38 89
Tel. +38 067 421 14 60
Skype: arboret_ua
http://arboret.com.ua/
Pallets are made from edging of proamerican. You can use wood (pine, spruce, birch, aspen) which corresponds to requirements 1,2 varieties GOST 8486-86 and 3 varieties GOST-83.
The upper flooring the palette consists of five boards 22mm, which alternate in order to wide (145 mm), narrow (100mm) wide, narrow, wide.
The distance between the flooring must not exceed (45mm) length Board (1200mm). Transverse boards of three pallet size HH.
The palette consists of nine pieces, the middle three checkers size him, crainie him.
The corners of the pallet are cut at an angle of 45*.
In the extreme lower deck boards are lead-in chamfers.
When skolacce upper deck transverse boards and blocks, apply the wire brush nails size 3,mm 4 PCs in extreme boards, 3 PCs in the middle of all St. In the lower deck 3,h 3pcs just St, in transverse flooring size 2,h only on 3pcs 18pcs. and bent in the opposite direction