The adhesive tape with a logo
Offer type: sale
Published: 01.04.2015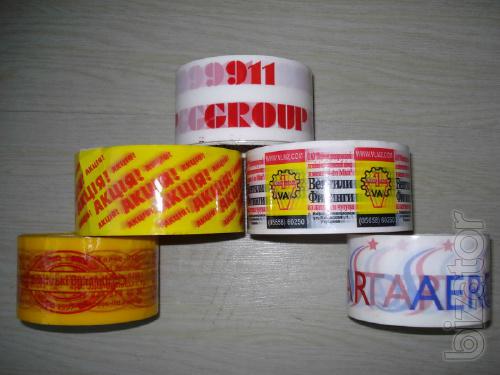 The proposed adhesive tape with a LOGO.
The manufacture of adhesive tape with a logo of Your company gives You the following advantages:
-protects the goods in transit from unauthorized opening;
-provides the information content of Your package;
-advertising of Your company.
Use the logo on the packaging tape Scotch" internally or external, as desired.
The width of the tape 24/48/72 mm;
length: 66/100/150/300/990 meters.
The density of Scotch: 45 μm.
The type of damage the adhesive: acrylic or hot melt (rubber).
The turnaround time when external application - up to 14 days, with internal application - 24 days.
Main color base tape: white, transparent, brown, and optionally other.
Ordering information
Price: 7,30 UAH./PCs.
Minimum order: 144 units.
Packaging method: cardboard 36 or 72 pieces.
And the TAPE with the inscription ACTION.
In the presence of 11 application options.