Repair of cranes and construction equipment, sale of spare parts
Offer type: services
Published: 23.01.2018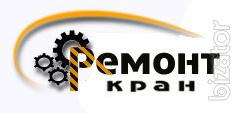 The company "Repair Crane repairs of cranes, hoists, derricks and other specialized equipment.
Installation and adjustment of safety devices, limiting dump trucks on any crane (PMC-140, PMC-160, Ohm-240, SA-Oh, SBUC). Installing anemometers and wind sensors. Repair of hydraulics.
Sale of spare parts for cranes Ivanovets, Gasex, Gazprom-Kran Kamyshin: current collector, repair kit seals RTI for crane, cuff turntable rotator, hydraulic cylinders bearings and lifting, collector, hidrotambo, valves, Creamery spare parts to the safety devices, the planar heaters, heaters TS, connectors AMR, limit switches and much more.
The service valve MCAT-16, MTA-160, KS-2574, KS-3577, KS-35714, KS-35715, KS-4561, KS-4562, KS-4572, KS-4573, KS-4574, KS-45716, KS-45717, KS-5476, KS-55716, KS-I, KS-B, KS-K, KS-B-1, KS-K-1, KS-54714, KS-55735, KS-6476, KS-I, KS-6478, KS-65740, KS-6973, KS-7976 and others.