Offer type: sale
Published: 27.02.2015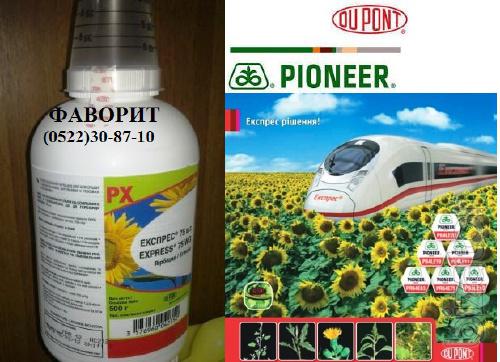 EXPRESS ™ provides the opportunity for post-harvest control of dicotyledonous weeds in crops of sunflower hybrid PRE as in combination, and only post-harvest protection program that ensures maximum use of the potential of culture, the guaranteed yield increase and flexibility in use.

   The arguments are convincing:
- Herbicide Express ® 75 century, will provide post-harvest control of a wide range of single and perennial dicotyledonous weeds in crops of hybrid PRE sunflower.
- Highly effective against such resistant species, Ragweed (Ambrosia spp.), Sow Thistle (Sonchus spp., Cirsium spp.), Loboda (Chenopodium spp.), : Netreba (Xanthium spp.), The dope ordinary (Datura stramonium), and others.
- The absence of any restrictions on subsequent crops in the rotation.
- Flexibility in time of introduction from 2 to 8 leaf culture.
A convenient form of the drug (water-soluble granules) provides easy dispensing, preparation of the working solution and the use of different types of sprayers.
- Optimization of load on the equipment for spraying.
- Post-harvest use Express ® 75 century, is a Worthy alternative to gravel drugs, because the drug does not depend on the level of humus in the soil, its structure and humidity.
- No residues of the herbicide in the seeds with the use according to the recommendations.