Voltage transformer ioie-6, IOIE-10
Offer type: sale
Published: 15.01.2019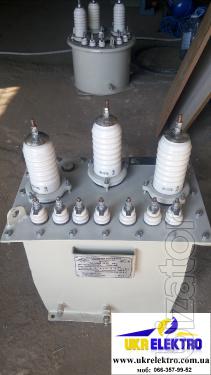 The company TD ", Ukrenegro" offers: voltage transformer, three phase, measuring a series of ioie-6 and IOIE-10. These transformers are actively utilized to measure current passing through electric circuit with voltage of 6-10 kV.
Transformers ioie is widespread in Ukraine and is actively used in many substations. Great demand for them due to the simplicity and reliability of the transformer design and reasonable price
To purpose transformers series IOIE include:
In electrical engineering, voltage transformers line of IOIE have applications in electric circuits of alternating current type, having a frequency of 50 Hz, the voltage 6 or 10 kV.
Voltage transformers IOIE realize the function of full-scale Converter and perform the task of creating a measuring signal, is designed for accounting and measuring instruments and circuits with functions of protection and alarm circuits which has an isolated neutral.
As transformer is used for measurement, a required parameter is calibration of the transformer. Primary calibration performed by manufacturer, what is put an entry stamp in the passport of each transformer.
Requirements to the operating conditions of the transformer:
• For internal use;
• Standard height of installation above sea level – should not exceed 1 km.
• Permitted ambient temperature for the transformer operation from minus 35 °C to plus 50 °C.
 
Technical parameters and characteristics of the transformer IOIE:
Option
Ioie-6 U3
IOIE-10 U3
Rated voltage of windings, V:
6000,100, 100:3
10000,100, 100:3
Maximum power, VA
630
1000
Scheme and connection group
UN/UN/0-0
UN/UN/0-0
Full weight, kg
63
81
All transformers ioie should be a seal of the manufacturer, which guarantees the integrity of the design and is a necessary component in warranty cases.
Transportation of transformer by transport companies is carried out with prior sheathing, which provides protection against possible damage during transportation.
Buy transformer IOIE, you can contact our experts and ask questions regarding the price, terms and conditions of supply, and others.
Possible options marking: voltage transformer НТМИ6У3, IOIE-6У3, ioie-6-U3 НТМИ10У3, IOIE-10У3, IOIE-10-U3